Approved by Hong Kong Civil Aviation Department (Click here to view the approval)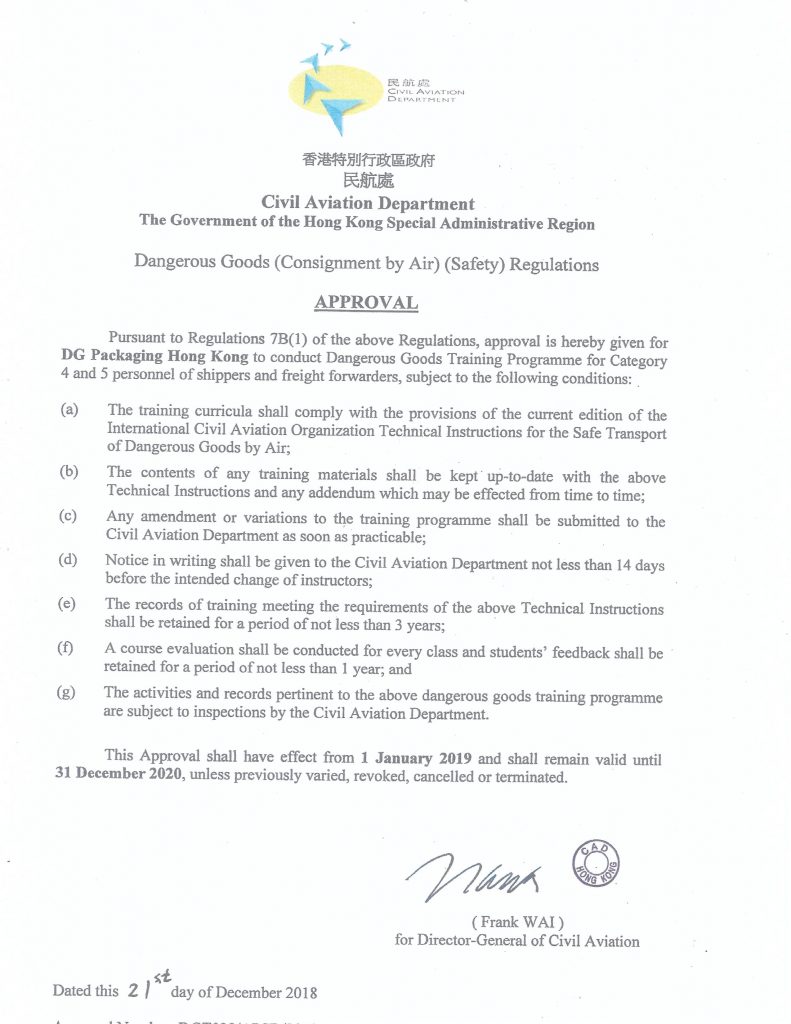 For  Forwarder ( Category 4 & 5)
---
Class Schedule (2020)  30Jul,  06Aug, 17Sep, 15Oct, 19Nov
Duration: 1/2 days ( 9.00 am-1 pm)
Course Fee

HK$500 per person

  (If have purchased our label/UN box,

HK$200 per person

... Please email copy of receipt upon enrollment.)  
======
For Enrollment.

please email to

sales@dg-packaging.com.hk

with  Name, Company Name, Tel. contact No., Course date )
Please feel free to contact us if need further information.
For enquiry please contact Tel: 2861 8780 or Email: sales@dg-packaging.com.hk
Above courses meets the requirements for Shipper/Forwarder whom need to consign Dangerous Goods Shipment by Air. The courses also meets the IATA cargo agency's training requirements.
Note: The certificate will be valid for 24 months and recurrent training is required every 24 months as per (ICAO-TI) International Civil Aviation Organization's Technical Instructions for Safe Tranaport of Dangerous Goods By Air requirements.
>>> Further Discount available if you have purchase our Labels/UN box <<<